Running In Pairs
by Magnhild Opdol
The first commmisioned piece is created by Irish based Norwegian artist Magnhild Opdol. The piece is a pencil drawing of two hares. "The work for Chapter One was inspired by Autumn and the hunting season"
Hold
by Damien Flood
"When I think of spring I picture notions of rebirth – plants, animals and humans coming to life after a long winter. With this in mind, I wanted to give a previous painting a new lease of life. I was delighted to be able to bring Hold to a triumphant conclusion for this project with Chapter One"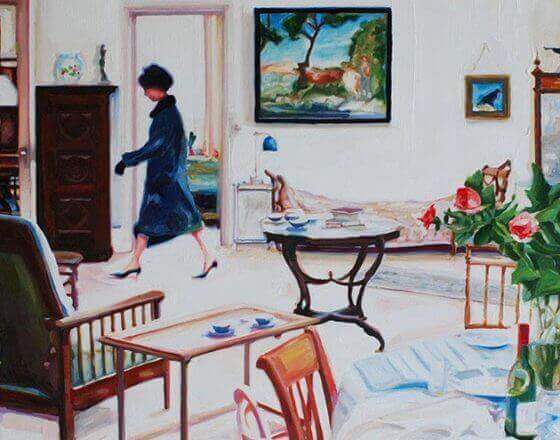 Chapter One
by Stephanie Rowe
"When I was thinking about the painting I would make for Chapter One, several ideas came to mind. Firstly, I became interested in the notion of story. There are stories behind the ingredients, and also behind the people who eat in the restaurant, who work in the restaurant. There is also the wider story of the relationship between humans and food, quite practically it sustains us, but also, it connects us with our environment and with others. I wanted the imagery in the painting to be familiar, as opposed to foreign or exotic."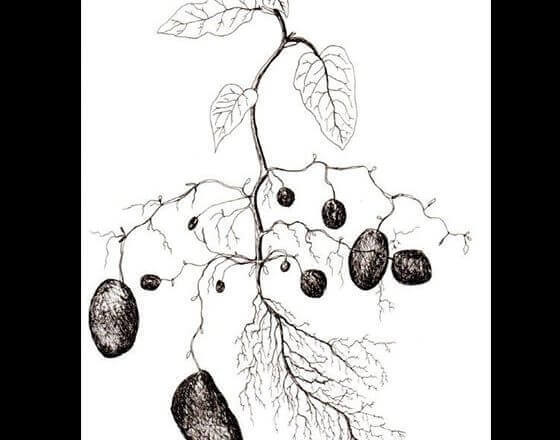 The Shape of Time (Spud)
by Katie Holten
Motivated by social, cultural and environmental circumstances such as financialisation of Nature, Katie makes drawings, sculptures, installations & emphemeral actions that function as poetic alterations to the everday. At the root of her practice is a curiosity with life's systems- organic and man made- and the inextricable relationship between man and the natural world in the age of the Anthropocene.
Idaho Farmer
by Brian Maguire
This painting, of an Idaho farmer, is one of many paintings that Maguire has completed during several summers spent in this U.S. state, where he became fascinated with its gun culture and with the social outcasts he saw and met there.
Cheetah Tea
by Sheila Rennick
This is an Oil and Canvas Piece of a dream-like interior. It mirrors childhood stories of The Tiger who came to Tea and Noah's Ark. Painted in thick oil paints, the cakes look edible and a giraffe looms over the children who are eating happily beside a growling tiger.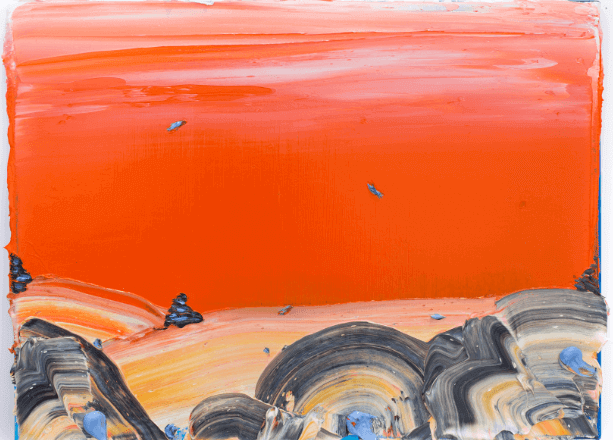 Scattering Light
by Jane Rainey
This jewel-like oil-on-canvas piece, commissioned in 2017, is a response to the natural phenomenon of an orange sky when the sun is lying low on the horizon and the light doesn't scatter as much, allowing the sky to be filled with vibrant yellows, oranges and reds.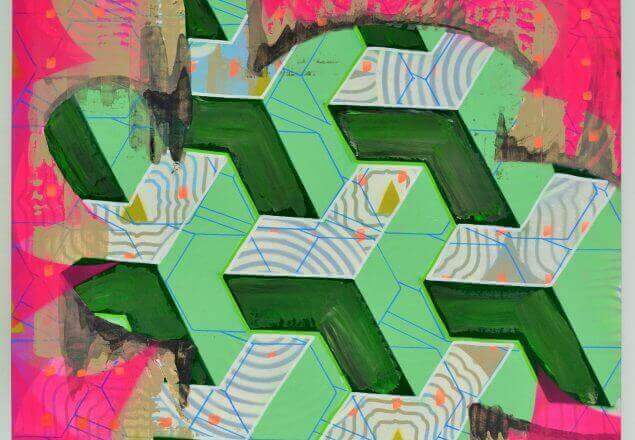 Bathe in Encounter
by Leah Hewson
This piece is "directly inspired by the full sensory experience that can occur whilst eating a meal.  I ventured to embody this experience by using only paint. Deliberate, meticulous marks are mixed with organic and expressive ones, each component equally as important in the ambiguity between layer and form.  The intricate structure, pattern and bright colours that can be found in nature are announced in the painting.  The complexity and transparency of the layers allows the viewer to experience something new each time they take a bite."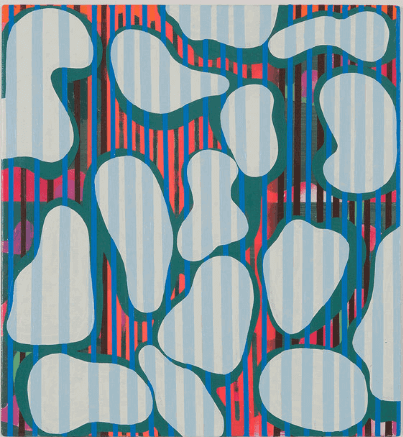 Odic
by Ronnie Hughes
This vibrant abstract piece is by Belfast artist Ronnie Hughes, who lives and works in Sligo.
Since October 2011 Chapter One has been running an exciting initiative to promote the work of young and emerging artists in Ireland and, over the course of a decade, to build a collection for display in the restaurant.
Everywhere you look here, there is art. Inspired by a love of art and a passion for food, Ross Lewis created "ProjectArt @ Chapter One" as a collaborative expression of the creative connectivity between art, food and the restaurant's customers. Each commission is launched annually, and the recurring theme will be the interpretation of the connection between food and art. The nominated artist's brief is to create a piece, using any media which can be expressed as abstract or realism, to grace the cover of the restaurant's menu, while the original work will be displayed in the restaurant. These menu covers are available for purchase in the restaurant. There will also be a number of limited-edition prints available to patrons.
There are many parallels between food and art; both require a flair and passion for creative thinking and delivery of something that is visually appealing and engaging.
Chapter One is very fortunate to be surrounded by artistic talent in Ireland and to have the input of a wide variety of people including artists Fergus Martin (Aosdana) and Patrick T. Murphy (RHA).
Ross and his team are appreciative of their guidance, expertise and help when selecting artists.