A New Venture combining Mickael Viljanen's unique culinary identity with Chapter One's tradition of peerless, relaxed hospitality
The new era by Mickael Viljanen's energy and passion along with Ross Lewis' mentoring and experience, aims to create one of the most unique experiences in Ireland.
The merging of cultures, new alliances, suppliers and team will bring Chapter One to the next level with a strong focus on excellence in a clean, modern style.
Chapter One's infamous welcome awaits guests who will immerse themselves in a luxurious dining room for an exceptional dining experience.
The Restaurant & Interiors
The interior of the restaurant showcases a carefully
curated selection of Irish art, design and craft designed to ensure that guests' experience here is a multi-sensory one that extends beyond the food.
There are functional pieces, including Joe Hogan's basketry and the bar trolley by DesignGoat, that serve to enhance the dining experience. Others, such as Emmet Kane's gilded tabletop pieces, are purely decorative.  Like the interior itself, which is the work of Irish Interior Architect  Maria MacVeigh, the overall aesthetic of refined, elemental luxury very much complements both Mickael's food and Ross's long tradition of celebrating Irish natural materials and craftsmanship.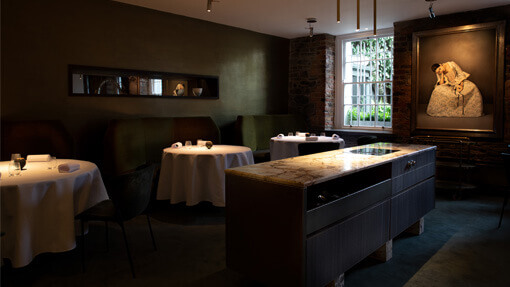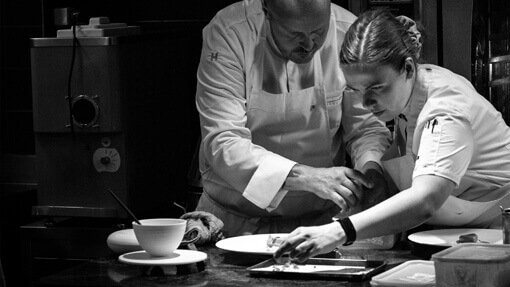 Mickael Viljanen – Chef Patron
Mickael Viljanen was born in Stockholm Sweden but grew up in Finland. After some time spent in the UK he moved to Ireland in 2000, and has worked with Paul Flynn at the Tannery and spent 5 years in Gregans Castle in the west of Ireland where he won Chef of the Year and Restaurant of the year from Food & Wine Magazine, and also RAI Chef of the year. 
From There Mickael moved on to open the Greenhouse in Dublin 2012 where he went on to win Food & Wine Magazine Chef of The Year twice, most recently in 2019, also Winning Restaurant of the year in Georgina Campbell guide in 2012 and Georgina Campbell guide Chef of the year in 2019.
September 16th in 2015 saw Mickael entering the Michelin guide with 1* and October 7th in 2019 the restaurant got Promoted to 2* under his leadership, making it at the time one of only 2 Restaurants in Dublin with this accolade and a first one since 2000.
Opinionated about dining Top 100 (OAD top 100) has placed Mickael and the restaurant team 26th  in Europe for classical dining.
2021 saw Mickael moving to a role of Chef Patron at Restaurant Chapter One with Mickael Viljanen.
Mickael has travelled intensively over the years and work has seen him travel to Asia, USA, Scandinavia, UK and beyond.
He has also appeared in MasterChef Ireland as a guest judge in 2012 and judged San Pellegrino World Young Chef final in London, 2018.
Ross Lewis – Patron
Hailing from Bishopstown, Co. Cork, Ross graduated from UCC in 1985 having studied Dairy Science.
Whilst working in Manhattan for two years at Dorians Red Hand Restaurant is where the idea of cooking for a living first came to him.
Moving to London to learn his trade, he started out at Odin's, owned by Peter Langan, Richard Shepard and the actor Michael Caine. After that came a move to Switzerland to work at Le Chat Botté at the Beau Rivage Hotel in Geneva.
Lewis, then 25, returned to Ireland in 1990 and in 1992 took the chance, with Martin Corbett, of setting up Chapter One on Parnell Square in Dublin. Thanks to a relentless focus on customer care and a commitment to creating dishes reflecting the best of Irish food, the restaurant has enjoyed a loyal following ever since, holding a Michelin star since 2007 and winning countless awards including Best Restaurant In Ireland (eight times, most recently in 2017), Best Chef of the Year (2009, 2010 ,2012, 2017, Food & Wine Magazine).
Ross was head Chef for the only State Banquet during Queen Elizabeth II's historic visit to Ireland in 2011.
He is a passionate advocate of Irish food and producers, and in 2015 published Chapter One:  An Irish Food Story (Gill Books).
In 2015 Ross opened Osteria Lucio's with the guidance from his good friend and Chef Luciano Tona from Milan. They cook a food of friendship based on quality Irish and Italian ingredients cooked with Italian tradition.
In 2018, Ross achieved the prestigious Mike Butt award for lifetime achievement, from the Restaurant Association of Ireland.
Ross is a former Commissioner General of EuroToques where he worked for many years very closely with Myrtle Allen the hugely influential Irish food figure and Chef. Along with John McKenna, Ross delivered the inaugural lecture on Myrtle's contribution to Irish food at UCC in 2019.
In 2019, Ross received an Alumni Achievement Award from his alma mater, UCC, honouring his life's work to date in the food industry. 
Most recently, in February 2021, he received the inaugural Michelin Mentor Chef Award for Great Britain and Ireland.  This award from the Michelin Guide recognises a particular chef's contribution to nurturing talent within the industry. As the guide says: "Ross' vast experience has allowed him to pass on his wealth of knowledge about cooking and Irish produce to younger chefs coming up through the ranks, acting not only as a mentor but also as a friend to a host of chefs."
 In June 2021, after 28 years, Ross made the decision to step down from the kitchen and to hand over the baton to a new chef-patron, the Michelin-starred Finnish chef Mickael Viljanen.
Front of House
Danny Desmond – General Manager
Juba Paridi – Restaurant Manager
James O'Brien – Head Waiter
Guillaume Gorichon – Head Sommelier
Paul Gartland – Sommelier